EVENTS


Capernwray Torchbearers Queensland organises teaching and ministry events designed to engage, enrich, challenge & inspire. We continue to support local churches in proclaiming & explaining the crucial (but often missed) message of "Christ in you, the hope of glory!" - Col 1:27.

Our events are open to everyone, except when they say they aren't (which is fairly rare). You do not need to be associated with any particular church, you need not have a previous association with us, and you don't have to call yourself a Christian. Our events are fairly casual, friendly & informative. We think you'll like them :)

--------------------------------

UPCOMING EVENTS


Events details are added when they are confirmed. You can join our mailing list here to receive notifications via email as well as follow us on Facebook & Twitter.
--------------------------------

Ron Lowery in Brisbane
Sat 26 - Sun 27 Oct 2019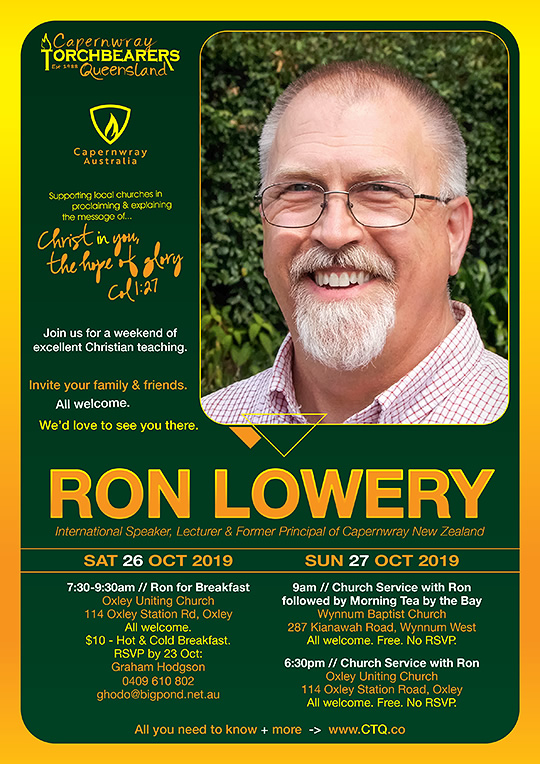 Ron Lowery is our guest speaker in Brisbane this October. We're thrilled he's able to drop by for the weekend of Sat 26 - Sun 27. We've got a Saturday breakfast lined-up followed by two Sunday services with Ron preaching + a morning tea beside the bay which sounds delicious!

So who is this Ron Lowery guy? Find out here.


****************


Ron for Breakfast
7:30-9:30am / Sat 26 Oct 2019

Get out of bed and get ready to be fed… We're having Ron Lowery for breakfast!

Oxley Uniting are opening their regular breakfast event to EVERYONE (it's usually a men's breakfast). This way everyone can have a taste of Ron :)

Speaker: Ron Lowery
$10 - Hot & Cold Breakfast
@ Oxley Uniting Church
114 Oxley Station Rd, Oxley

RSVP by 23 Oct to Graham Hodgson
0409 610 802 or ghodo@bigpond.net.au


****************


Church Service with Ron
9am / Sun 27 Oct 2019

Ron will be preaching at Wynnum Baptist Church, followed by morning tea in a park on the Bay. Yum!

Speaker: Ron Lowery
@ Wynnum Baptist Church
287 Kianawah Road, Wynnum West
All welcome. Free. No RSVP.

Followed by Morning Tea by the Bay later on


****************


Ron is preaching one final time before waving goodbye and flying to NZ.

Church Service with Ron
6:30pm / Sun 27 Oct 2019
Speaker: Ron Lowery
@ Oxley Uniting Church
114 Oxley Station Road, Oxley
All welcome. Free. No RSVP.


--------------------------------




--------------------------------

PREVIOUS EVENTS HERE...
--------------------------------




Suggestions



- Speakers
- Ron Lowery
- Charles Price
- Hilary Price
- Johan Schep
- 'Wongabri' Bible School
You're Invited!


As always, everyone is invited to benefit from these opportunities to grow in their own faith and to encourage others to do so. Be assured you don't have to have any prior experience with Capernwray Torchbearers to join us for an event or conference.


Since 1988...



...we have organised many conferences & events with Christ-centred speakers in places such as Ballina, Brisbane, Dalby, Gold Coast, Lake Moogerah, Longreach, Mackay, Mt Tamborine, Sunshine Coast and Toowoomba.

...we have supplied thousands of these recorded messages on DVDs, CDs, videos & cassette tapes Australia-wide. Books too.

...we've been supporting local churches in proclaiming & explaining the message of "Christ in you, the hope of glory!" (Col 1:27).


Have Your Own Suggestion Or Feedback?



We always welcome suggestions for the future and feedback from the present & past. If you have either we'd love to hear from you. Email info@ctq.co .