Welcome To CTQ.co


Thank you for visiting our website. It exists to promote the ministry of Capernwray Torchbearers Queensland, a regional arm of Capernwray Torchbearers Australia & Bible School.

We organise teaching and ministry events designed to engage, enrich, challenge & inspire. We continue to support local churches in proclaiming & explaining the crucial (but often missed) message of "Christ in you, the hope of glory!" - Col 1:27.
ONE AWESOME WEEKEND! with Charles & Hilary Price


Fri 27 - Sun 29 Apr 2018, Mt Tamborine

Itís been 15+ years since Charles & Hilary ministered together in QLD, so don't miss this rare opportunity!!!!!!!!!!!!!!!! - That was 15+ exclamation marks :)

Registration is now open. All bookings are being done online through the MTCC website here. ACCOMMODATION WILL SELL OUT! If you know youíre going to go then donít put off booking.

Capernwray Qld is running the TLC accommodation, so choose that if you want to hang out/eat meals with other CTQ folk. You are also welcome to stay elsewhere including Camp Panorama, camp (powered or unpowered) or even off-site.

The program will be run in partnership with Mount Tamborine Convention and will definitely be an event not to miss!

More info here...



Brochure now online...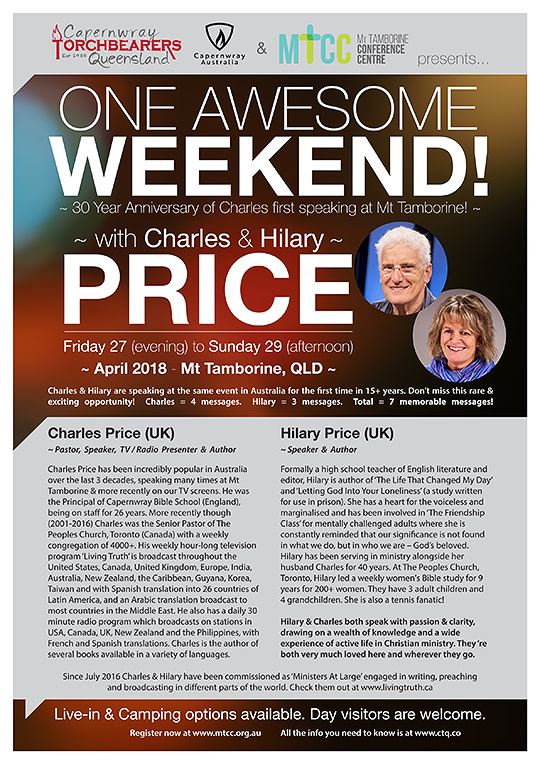 You can download the brochure here (PDF 1.6Mb) to print for yourself, put on your fridge, hand to a friend or stick up on your churchís noticeboard etc. Do a 'right click' to give your self options such as 'Save As'.



Thanks Satish...
We're very thankful that Satish John was able to spend valued time ministering in Queensland this February. We can't wait till next time!



October 2018: Johan Schep



To round out 2018, our favourite Dutchman will be back. Where in Queensland, I hear you ask? More details to come.



Stories & Short Messages...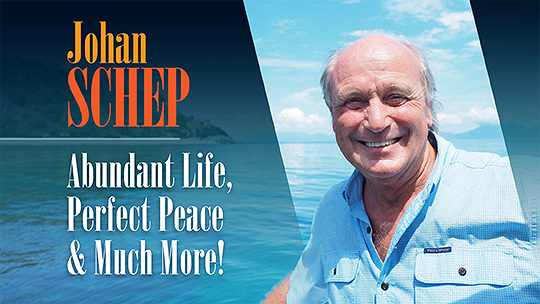 Geoff Rankin has filmed a special series of 16x 2-5 min stories & messages by Dutch evangelist Johan Schep, out & about in Queensland, that Johan is distributing around the world, including jails in Africa. Some great content - all in Johan's style! Share it with your family, friends, church etc. Watch it now on YouTube - https://youtu.be/fC_ZvUPmxrI .



Want To Go To Bible School?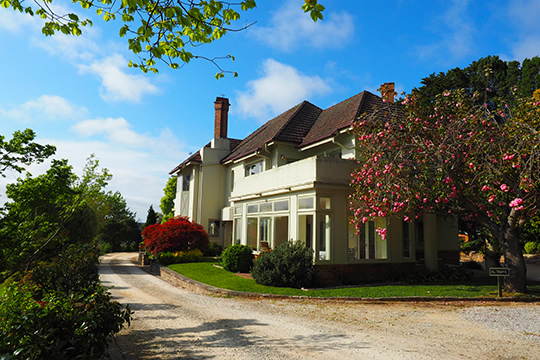 Do you desire a solid grounding in your Christian faith, studying with others from all over the world? Do you want to learn in a stimulating environment set in the beautiful NSW highlands? Capernwray Torchbearers Australia exists to provide a quality Christ-centred educational environment where each individual is taught and nurtured in the Word of God. Hey, and you're never too old!!! More...



Who Are We @ CTQ?



It's a good question and one we'd like you find out the answer to. Find out here.




Suggestions



- Events
- Contacts
- Mailing list
- 'Wongabri' Bible School
Upcoming...

Once dates are confirmed they are posted in Events.

Charles & Hilary Price
Fri 27 - Sun 29 Apr 2018
More info here...

Johan Schep
October 2018

You can also keep up to date by joining our mailing list & by following us on Facebook & Twitter.

Since 1988...

...we have organised many conferences & events with Christ-centred speakers in places such as Ballina, Brisbane, Dalby, Gold Coast, Lake Moogerah, Longreach, Mackay, Mt Tamborine, Sunshine Coast and Toowoomba.

...we have supplied thousands of these recorded messages on DVDs, CDs, videos & cassette tapes Australia-wide. Books too.

...we've been supporting local churches in proclaiming & explaining the message of "Christ in you, the hope of glory!" (Col 1:27).
Future Programming



We're in regular contact with speakers from all around the world for future programs. If there is a speaker you'd like to recommend or suggest, email Alasdair at akdrew14@gmail.com . More...
Keep Informed
You will be kept informed of the latest events and ministry updates by joining our mailing list & by following us on Facebook & Twitter.